---
Dhikala Forest Lodge - Jim Corbett National Park

Rated
5
/5 based on
353
customer reviews

Dhikala is one of the most popular sought after tourist accommodation in Corbett Tiger Reserve. Herd of elephants and spotted Deer pack the vast expanse of famous Dhikala Chaur. This is probably the best place in the Tiger Reserve to spot very rare Hog Deer. Staying at Dhikala is an experience every wildlife enthusiast looks forward to. Dhangari gate is entrance for Dhikala zone. Dhangari gate is located 18 kms away from Ramnagar while Dhikala Tourist Complex is located 31 Kms inside the Dhangari Gate. Dhikala is open for tourists from 15th November to 15th June. But remains inaccessible during Monsoon season. Dhikala tourist complex overlooks Ramganga Reservoir and is a perfect place to observe Crocodiles and Gharials basking in the banks of Ramganga.
For those people who would like to experience the wilderness of a national park at its best, the option to stay at an FRH inside the park is the best option. When the sound of various animals comes from the dense dark forest, nothing in this world compares with that feeling of joy mixed with fear.

When you pick up your torch to have a look at your surroundings, you can sight lots of eyes glowing in the light of your torch from the outside of the Rest House's electrical fencing. Deer, Wild Boars and sometimes even Tigers can be seen and heard very close to the fencing of the Rest House.
Details of Accommodation at Forest Lodges
Dhikala Forest Lodge
Dhikala Forest LodgeDhikala Forest Lodge has 25 rooms & 2 dormitory with 12 beds in each dormitory. 25 rooms are further divided into 5 categories.
Old Forest Rest House :- 5 rooms
New Forest Rest House :- 4 rooms
Annexe :- 7 rooms
Hutment :- 6 rooms
Cabin :- 3 rooms
Gairal Forest Lodge
Gairal Forest LodgeGairal Forest Lodge has 6 rooms & 1 dormitory of 8 beds. 6 rooms are further divided into 2 categories. Old Forest Rest House & New Forest Rest House
Old Forest Rest House :- 2 rooms
New Forest Rest House :- 4 rooms
After Dhikala Lodge, Gairal lodge is the most preferred forest lodge amongst visitors. Gairal forest lodge is located on the banks of ramganga river. Gairal forest lodge have electricity for a few hours in the evening via generator.
Sarapduli Forest Lodge
Sarapduli Forest LodgeSarapduli forest lodge has 2 standard rooms & 1 dormitory of 3 beds.

Sarapduli forest lodge is located on the way to Dhikala lodge from Dhangari gate. Most centrally located rest house facing the ramganga river at Dhikala zone is Sarapduli lodge. Due to the proximity to the river in front, movement of tiger & elephant are more at Sarapduli forest lodge. For bird watchers & to see crocodiles, Sarapduli forest lodge is the best place.
Sultan Forest Lodge
Sultan Forest LodgeSultan Forest lodge has 2 standard rooms.

Sultan forest lodge is the first lodge you will come across,when you drive from Dhangari gate to Dhikala Lodge. Sultan Forest lodge has 2 rooms only. Solar fencing is not around Sultan Forest Lodge. It is named after Sultan Sot (local seasonal stream) which flows through this region.
Accommodation in forest lodge - Basic / Standard Accommodation:
Attached toilets :- yes except in dormitory.
Star category :- None.
AC in the rooms :- No.
TV in the rooms :- No.
Tea cattle maker in the rooms :- No.
Mobile connectivity :- Negligible.
Land line :- No.
Electricity :- Only Dhikala lodge has fixed electricity line. Electricity in all the other rest houses are provided by solar panels.
Restaurant / Canteen :- Dhikala and Gairal lodges offer canteen with buffet meals. Other lodges provide kitchen facility with room attendants.
Room category :- Tough there are different room categories but all the rooms are similar. Even rooms with same category may vary from each other.
Location :- All the lodges in dhikala zone have excellent location and offers a wonderful view of forests and provides a rich and unique experience.
Safety :- All the rest house except sultan are covered with solar wire fencing to keep away the animals entering the forest lodges.
Dhikala is the most famous forest lodge in Corbett National park. Situated 32 kms inside the jungle, Dhikala forest lodge offers breathtaking view of Ramganga reservoir. Dhikala forest lodge has most number of rooms in the park. There are 2 canteens inside Dhikala Forest Lodge.
Dhikala forest lodge is located in the hearth of Corbett national park on the bank on Ramganga reservoir. Dhikala forest lodge or Dhikala forest rest house is managed by forest department of Corbett national park and provides an opportunity to the visitors of the national park to stay inside the forest. Picturesque location and beautiful surroundings make it an ideal place to stay away from the hustle bustle of city life. Dhikala forest lodge is the only lodge within the national park which provides the facility of electricity within the rooms and thus is ideally suited for families. In order to reach Dhikala forest lodge, one has to enter the Corbett national park via Dhangarhi gate. The distance of Dhikala forest lodge is 32kms from Dhangarhi gate and as soon as the vehicle enters Dhangarhi gate, one gets the idea about the beauty of Dhikala zone. Other lodges like Gairal, Sultan, Sarapduli, Khinnanauli fall on the way to Dhikala forest Lodge. The journey from Dhangarhi to Dhikala forest lodge is adventurous and provides many opportunities for wildlife viewing. For the safety of its visitors Dhikala forest lodge is covered with solar wire fence. The permits for the booking of Dhikala forest lodge are recommended to avail much in advance as it is highly popular amongst visitors from India and abroad.
Apart from 32 rooms, Dhikala forest lodge also has 02 dormitories, with 12 beds in each dormitory. Bathrooms in the dormitories are common. All 32 rooms at Dhikala forest lodge has attached bathrooms & running hot (solar) & cold water. The Campus of Dhikala Forest Rest House is located in the core area of Corbett National Park.
The food in Dhikala forest lodge is not a problem as there are two canteens within the premises of lodge. One of them is run by Kumaon mandal vikas nigam which is run by the tourism department of Uttarakhand and offers buffet meals. Other is a private canteen which offers food in alacarte menu.
About Dhikala Zone
Dhikala zone has one of the most picturesque and beautiful landscape in the world and the rich wildlife in the area adds to its charm. Dhikala zone if the biggest zone of Corbett national park open for its visitors and provides wonderful chances of game viewing. Dhikala zone gets its name from Dhikala grassland, which is one of the biggest grassland of the national park supporting variety of wildlife. Other than grasslands Dhikala zone has sal forests, mixed forest and variety for flaura. Lifeline of the zone is Ramganga river which supports the wildlife in the area and adds to the beauty of the forest.

Dhikala zone offers sighting of variety of wildlife including many rare or endangered species. One of the major attraction of the Dhikala zone is royal Bengal tiger but some of the animals commonly sighted in the dhikala zone are elephants, Spotted deer, Sambar deer, Hog deer, barking deer, common langur, rehusus macaque, wild boar, crocodiles, yellow throated martins, gharials, mahasheer and pythons and snakes. If one is lucky one can also get to see nocturnal creatures like leopard, slot bear, porcupines, and pangolins. Dhikala is also a paradise for birds and one can get to see more than 500 species of birds. More than 300 species of birds are permanent resident of the area. Dhikala zone is highly popular in terms of providing shelter to some of the highly endangered species like hog Deer, gharials, otters and golden mahasheer.

Dhikala zone of Corbett national park again tops the chart when it comes for the opportunity to stay inside the national park. There are five rest house/ lodges within Dhikala zone, which are run by forest department for staying of the visitors of Corbett national park. Dhikala forest lodge, Gairal Forest lodge, Sarapduli forest lodge, Khinnanauli forest lodge and sultan forest lodge are the names of rest houses within Dhikala zone. Other than sultan forest lodge, all the forest lodges are covered with solar wire fencing for the safety of the people staying in the lodges. Out of all the lodges Dhikala forest lodge is the only lodge which has got electricity.

Dhikala zone is open for tourists from 15th Nov to 15th june every year and during the remaining period it remains closed due to monsoons as many streams cross the road leading to Dhikala zone and it gets impossible to cross the streams due to high water levels and pressures. There are many tracks like thandi sadak, champion road, sambar road, car road, ram singh road, kamar patta, main road, moda dal road, shikari batiya developed in the Dhikala zone to enhance the chances of wildlife sighting.

Dhikala zone of Corbett national park can be visited by jeep only when one has the permit for staying within the forest lodges inside the dhikala zone. In case someone is staying in the resorts at the periphery of the national park, one can visit Dhikala zone by canters or open buses which are run by the forest department.

Our recommendation for the people visiting Dhikala zone if that one should keep the expectations low in terms of luxuries but staying at a location like lodges in Dhikala zone is a privilege and it is not a bad deal compromising on luxuries but getting unmatched nature and beauty.
Accommodation in Dhikala Forest Lodge:
Dhikala forest rest house has a total room inventory of 32 rooms which is further classified into 06 wings as mentioned below:-
04 rooms - New Forest Rest House, Dhikala
05 rooms - Old Forest Rest House, Dhikala
07 rooms Annexe room Dhikala
06 Hutment rooms, Dhikala
06 Cabin rooms, Dhikala
04 Old Range quarters, Dhikala
PHOTO ID Proofs: ADHAR CARD or DRIVING LICENCE or PASSPORT or PAN CARD or STUDENT ID or VOTER ID : that are Accepted - we require the number only - Scan copy is not required.
The First Traveller listed on the Booking form has to carry the same ID Proof as submitted for Booking Jeep Safari to visiting Corbett National Park.
TAll other Travellers also have to carry an ID Proof.
Charges are NON-REFUNDABLE.
Corbett Accommodation Formalities:
All visitors to Corbett National Park have to obtain permits from the concerned authority. These can be obtained from the park administration centre located at Ramnagar. The 03 days duration permit is issued on the spot without any delay provided photocopies of the identity cards along of the applicants are made available. Foreign nationals have to produce their passport and photocopy for the same to get the permit.

Corbett Forest Lodges Permits would be issued for a maximum of three days only. Permit is not transferable and once the permit is issued it is not refundable. The park authorities shall not be responsible in any way for damages caused.
Dhikala Tour Itinerary
Day 01: Arrive Ramnagar- Transfer to Dhikala via Dhangari Gate
In the morning pick up from Ramnagar railway station and transfer to Dhikala forest lodge. Check-in at the lodge, freshen up yourself and have little rest. After a short break take refreshment and get ready for the game drive. Soon after the lunch we leave for three hour game drive that will pass through a pristine wilderness area with some of the best sighting of wildlife. Now you have evening at leisure to unwind in the serene surroundings of your forest lodge. Retire for the night after dinner.
Day 02: Discover the Most Fascinating Wildlife Territory (CTR)
A knock on your doors reminds you the start of your day with hot coffee / tea to warm up before you head towards the Jungle Safari. Do not forget to take your camera and binoculars before getting on the gypsy. The three hours morning safari this morning will be through unrivaled wilderness area with some of the amazing sighting of wildlife to look forward to. Now you entered into the Dhikala tourism zone which is a well know wildlife tourist destination in Jim Corbett National Park. It is situated at the border of the Dun valley from where from the Ramganga flows in numerous channels. This exclusive zone offers outstanding view of the valley. It gives you an opportunity to discover the most fascinating wildlife territory on earth. Lunch will be served back at the resort. Now you have afternoon at leisure to unwind in the serene ambiance of your classic lodge.
Day 03: Corbett National Park to Delhi
Get ready for early morning game drive in a dense saal forest, grassland of riverine forests, the presence of large water body and its location on the foothills. According to your tour package the last day we take you to Elephant ride. Explore the richness of flora and fauna of Corbett just from a height. Come back to the resort and check out from the resort on time. Later depart by surface for Delhi (260 Kms/ 06 hrs drive).
Book Now
---
Help Center
Do you have questions before you fill the form? Frequently Asked Questions?
View All FAQs

Have any kind of issues? Contact us!
Customer Support
Call Us:
Mobile (24X7):
+91-7983013274
Office (10 AM - 5:00 PM):
+91-7983013274

Jim Corbett National Park, India
Email : onlinecorbettbooking.uk@gmail.com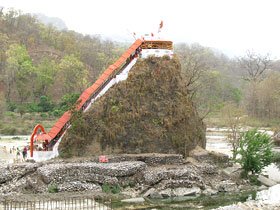 ---
---
Our Privacy Policy for Jim Corbett National Pak
---
Find Out Route Map for Jim Corbett National Park
---
How to come prepared to Jim Corbett National Park
jim corbett national park : Jeep Safari in jim corbett national park, elephant safari in jim corbett national park, canter safari in jim corbett national park, night stay accommodation in corbett forest lodge in jim corbett national park, hotels in jim corbett national park, resorts in jim corbett national park, hotels resorts in jim corbett national park. corbett forest rest house bijrani dhikala jhirna sonanadi durgadevi dhela in jim corbett national park. Visit Corbett Facilities Insight Corbett Travelling Inside the Park Monitoring And Research Forest Rest Houses Corbett Tiger safari jim corbett national park India corbett Places corbett elephant safari : online booking and Permit with best price best rates best cost best tariff best services.
jim corbett national park : dhikala forest lodge, bijrani forest lodge, jhirna forest lodge, dhela forest lodge, corbett forest lodge.
jim corbett national park jeep safari, jim corbett national park elephant safari, jim corbett national park dhikala canter safar, jim corbett national park hotels and resorts, jim corbett national park night stay accommodation, jim corbett national park hotels, jim corbett national park resorts, jim corbett national park best hotels and resorts, jim corbett national park best hotel and resort, jim corbett national park best hotels, jim corbett national park best resort. Online Booking & government official website of jim corbett national park online booking and reservation permit available here.