---
Group Enquiry - Jim Corbett National Park
College / School Student Group / Corporate / Company / Call-Centre Group
Get special discounts for College / School Students / Corporate / Company / Call-Centre Persons, packages available as low as INR 700 per student & INR 1200 per person accordingly. For details :
Call us at +91-9756555511 / +91-9756555501 or
Email us at [email protected] now!.
Things to do in Jim Corbett National Park while you are on a weekend Trip :
Corbett National Park has been the ultimate destination for hard core wildlife lovers and nature enthusiasts for a long time. The natural paradise on this planet is the best place to spend weekend in the Sub-Himalayan belt. It gives an opportunity to explore the exhilarating terrain, dense jungle, streams, rivers and numerous varieties of wildlife kingdoms. That's all about natural to get the enchanting experience of observing the undomesticated wildlife in its natural dwellings. And if you are in a group of your office colleagues, school or college mates then the taste of joy and fun gets doubles and touches the apex height of tourism. Let us take a quick glance over the major adventurous activities before you dream for a great weekend holiday in Corbett.
Jungle Safaris:
The most common and obvious activity that everyone would try while visiting Corbett; is the Jungle Safari. Safari is most preferred adventurous activity that takes you to virgin part of the jungle. However, there are mainly three types of jungle safari is conducted in Corbett by the forest officials in two shifts - morning and evening. The very first type is open Jeep Safari i.e. widely being preferred by the tourists. It is so because Jeeps are the best way to explore the hidden mystery of the Corbett Jungle. Jeep moves on a fixed trails and accessible to every zone of the national park. Please note that these Jeeps are not made for comfort they are made for getting around nature reserve. Jeep Safari is the feasible option for small groups and family. Definitely you will love the time of knowing the lush jungles with your specific group.
Elephant Safari is another interesting way to explore the Corbett Jungle. Angling over nine feet high above the ground in the territory of the Royal Bengal Tiger is the apex form of tourism. The elephant ride takes you to the every nook and corner of the Corbett terrain. Please note that Elephant Safari is only available in Dhikala (for those who are staying at Dhikala Forest Lodge) and Bijrani Zone.
Canter Safari is another mode of exploring the Corbett National Park. Canter is a 16 Seater open bus vehicle that is customized for Jungle Safari and suitable for large groups. Canter is only conducted in Dhikala Zone s it is always advisable to make booking well in advance.

Birding: Birds are the most beautiful gift of nature and the area in and around the Corbett National park is the virtual heaven for them. Birdwatchers from the different parts of the world and country come here watch their intriguing behavior. Flora of the Corbett give shelter to more than 650 different species of migratory and residents birds. Keep your binoculars ready and set out for a world most pleasing outdoor activity in the Corbett Jungle. The common species of birds that may be sighted are black necked stork, Himalayan Bulbul, Rain Quail and Black Winged Stilt.

Fishing & Angling: The outer periphery of the Corbett National Park is blessed with an ample of perennial water bodies. Sitting on the riverside on a bright sunny day with a fishing stick in hand is another form of pleasure activity i.e. most preferred by the tourists coming here. World famous Sporty Mahaseer fish dominates the River Kosi and Ramganga. Fishing & angling is full of excitement and uncertainty activity and Corbett is the best place to enjoy.

Rappelling: Rappelling is special climbing activity that needs a little bit courage before you take a plunge for it; special arrangement is made and you are tied with a strong rope around your thigh and shoulder. Rappelling is one of the most preferred adventurous activities for the tourists visiting the Corbett area.
Book Now Group Tour Packages
---
---
Help Center
Do you have questions before you fill the form? Frequently Asked Questions?
View All FAQs

Have any kind of issues? Contact us!
Customer Support
Call Us:
Mobile (24X7):
+91-9756555501
Office (10 AM - 5:00 PM):
+91-9756555511

Jim Corbett National Park, India
Email : [email protected]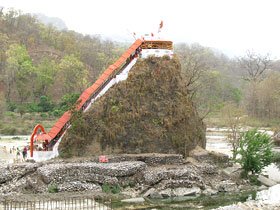 ---
---
Our Privacy Policy for Jim Corbett National Pak
---
Find Out Route Map for Jim Corbett National Park
---
How to come prepared to Jim Corbett National Park
jim corbett national park : Jeep Safari in jim corbett national park, elephant safari in jim corbett national park, canter safari in jim corbett national park, night stay accommodation in corbett forest lodge in jim corbett national park, hotels in jim corbett national park, resorts in jim corbett national park, hotels resorts in jim corbett national park. corbett forest rest house bijrani dhikala jhirna sonanadi durgadevi dhela in jim corbett national park. Visit Corbett Facilities Insight Corbett Travelling Inside the Park Monitoring And Research Forest Rest Houses Corbett Tiger safari jim corbett national park India corbett Places corbett elephant safari : online booking and Permit with best price best rates best cost best tariff best services.
jim corbett national park : dhikala forest lodge, bijrani forest lodge, jhirna forest lodge, dhela forest lodge, corbett forest lodge.
jim corbett national park jeep safari, jim corbett national park elephant safari, jim corbett national park dhikala canter safar, jim corbett national park hotels and resorts, jim corbett national park night stay accommodation, jim corbett national park hotels, jim corbett national park resorts, jim corbett national park best hotels and resorts, jim corbett national park best hotel and resort, jim corbett national park best hotels, jim corbett national park best resort. Online Booking & government official website of jim corbett national park online booking and reservation permit available here.
�